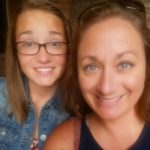 The mother in me wants to tell you all about her…
accomplishments
personality
dreams
and every, single reason that I am proud to be her mom.
But, I think it's best to let her introduce herself.  All you have to do is read her blog and you'll see the kind of young lady that she is and why I'm so blessed to call her my daughter!