If you've found this page, more than likely we're either already acquainted with one another or you've heard about Love you. Love, God. I thought it might be good to share a little bit about myself for those of you I've yet to meet.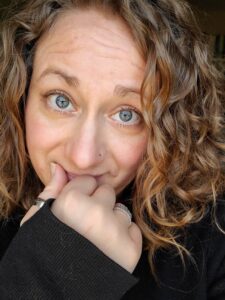 Hello! I'm Amy! I have an amazing husband and beautiful daughter who just started college, two dogs, a fat cat and hopefully one day, a whole heard of cows…but that's another story! I remember writing my first poem when I was 10, on my way home from a trip to Colorado. From then on, I continued to write poems and non-fiction pieces based on personal stories. I only remember one piece written as a teenager that was about my faith. It wasn't until I became an adult, in my early 30's, that I truly felt God was putting words on my heart to share.
The story of Love you. Love, God is actually one I'll never forget. It started on the beach in Mexico while on my honeymoon in 2012. It was then that God started talking to me about writing. Not audibly, but it was loud enough in my head that I had to take notes.
My husband gave me a confused look and asked, "What are you doing?"
I yelled while running to our room to get a pen and notebook, "God's talking to me and I need to write this down!"
For at least an hour, I sat there and wrote, oblivious to everything going on around me. It was that moment that the concept was born, but not perfected — it'll never be perfected. Always changing, always improving, just how God wants US to be.
The most important thing I wrote down, taking up one single page was this: Love you. Love God.
I didn't really know what it meant at the time, but God was working on something that He'd later explain.
For the next couple years, I wrote religiously. Every week day I would log on to Facebook and post inspirational messages. Now you should know, I can't take credit for any of the words I write. Before I put pen to paper (or fingertips to keyboard), I say a prayer. It sounds something like this:
"God, please give me the words that someone needs to hear this morning."
There are times when it only starts with a word, other times a phrase or scripture and many times, prayer isn't even needed. There's a topic that God puts on my heart and I just start writing. Writing is what I do. It's how I express myself. During difficult times, writing is the only way I can fully understand, myself, how I feel or convey to others what I'm going through. Verbalizing isn't the easiest for me. On a good day, I can give decent advice. On a typical day, I am able to write down what I'm thinking to then read it later on. But this writing was different. It wasn't for me. It felt as if the words were intentionally put on my heart for someone else — most of the time, I never knew who it was for.
Here's the cool part…
One day those four words from years before popped into my head only they appeared a little differently this time.
Love you.
Love,
God
It was starting to make sense now. Those words, written so intentionally, were for someone specific from God. And what might you guess was the reason behind it all? To say to whomever it was, that He loved them…signed with His signature. If I go back to all those postings and end them with Love you. Love, God it brings about the very reason those four words, and all the ones thereafter, were placed on my heart.
Over time, this passion on my heart has grown stronger as has the desire to serve God and follow His direction. Trust that what you see on this site is something that God has given me to share with you [or maybe for you to share with someone else]. God knows what we need – always.
Sometimes we are simply the vessel He's using to serve those who need to hear His voice or feel His presence. The writings you see may be on countless topics but one thing will always remain a constant – God is at the center of it all. God is behind every word. He has brought us to Him for reasons we are only beginning to understand.
I wish you many, many blessings – today, and always!
Amy